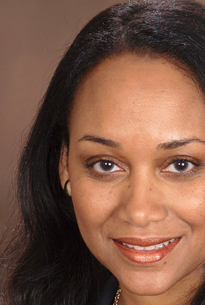 description: Thank you for coming. You are always welcome. Here is where I live my best life, loving faith, family, friends, food, and forever Regency. I put my heart into everything that I care about, and I care about bringing hope and joy into this world and on every page.

Come back often for contests, recipes, funny stories, prayers, and sneak peaks on upcoming releases.
description: Winning in the courts, vanquishing England's foes on the battlefield, Barrington Norton has used these winner-take-all rules to script his life, but is London's most distinguished mulatto barrister prepared to win the ultimate fight, restoring his wife's love?

Amora Norton is running out of time. The shadows in her Egyptian mind, which threaten her sanity and alienate Barrington's love, have returned. How many others will die if she can't piece together her shattered memories? Can she trust that Barrington's new found care is about saving their marriage rather than winning the trial of the century? -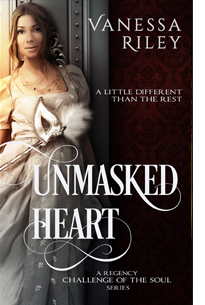 description: Shy, nearsighted caregiver, Gaia Telfair always wondered why her father treated her a little differently than her siblings, but she never guessed she couldn't claim his love because of a family secret, her illicit birth. With everything she knows to be true evaporating before her spectacles, can the mulatto passing for white survive being exposed and shunned by the powerful duke who has taken an interest in her? Ex-warrior, William St. Landon, the Duke of Cheshire, will do anything to protect his mute daughter from his late wife's scandals. With a blackmailer at large, hiding in a small village near the cliffs of Devonshire seems the best option, particularly since he can gain help from the talented Miss Telfair, who has the ability to help children learn to speak. If only he could do a better job at shielding his heart from the young lady, whose honest hazel eyes see through his jests as her tender lips challenge his desire to remain a single man. Unmasked Heart is the first Challenge of the Soul Regency novel. -
description: Coming to London has given Precious Jewell a taste of freedom, and she will do anything, bear anything, to keep it. Defying her master is at the top of her mind, and she won't let his unnerving charm sway her. Yet, will her restored courage lead her to forsake a debt owed to the grave and a child who is as dear to her as her own flesh? Gareth Conroy, the third Baron Welling, can neither abandon his upcoming duty to lead the fledgling colony of Port Elizabeth, South Africa nor find the strength to be a good father to his heir. Every look at the boy reminds him of the loss of his wife. Guilt over her death plagues his sleep, particularly when he returns to London. Perhaps the spirit and fine eyes of her lady's maid, Precious Jewell, might offer the beleaguered baron a new reason to dream. The Bargain is the first Port Elizabeth Regency Tale. -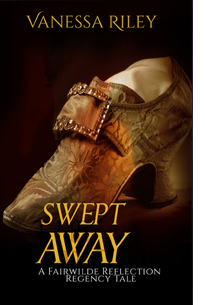 description: Charlotte Downing, the Duchess of Charming, wants what she wants. Today, it's a fine pair of lacy slippers crafted by the renowned Ella's Establishment. To be picture perfect for her presentation to the queen, Charlotte will survive crashed ceilings and falling bricks. Yet, has she met her match in the conservative merchant, whose autumn colored eyes make her pulse race, especially when he says no. Caught between the glittering world of the Ton and the respectable profession of selling shoes, Edwin Cinder can't understand the lady's persistence or the fire lighting her blue eyes when she's challenged. With his lack of pedigree, there's no chance for this common God-fearing man to win her hand, but he'll risk all to save the duchess from the ravishes of a London gale. Swept Away is a Regency Retelling of Cinderella with a twist.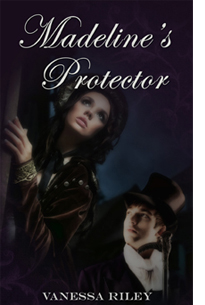 description: If all the young men of England leapt off a cliff, Madeline St. James wouldn't care. Then she'd have peace. Her nightmares of courtship would end,and she'd cozy up with a Psalm in her aunt's quiet sculpture garden. Yet, a chance meeting and a bullet wound change everything, and Madeline must trust the Good Shepherd has led her to the altar to marry a dashing stranger, Lord Devonshire. Death and pain are no strangers to Justain Delveaux, Lord Devonshire, and he vows his dutiful bride will be kept safe and in her place. Though this compromised marriage is in-name-only, his wife and her unwavering faith both intrigue and allure him. Perchance when he thwarts his brother's killer, Justain will tempt the unpredictable Madeline with the comfort of his arms. But can Madeline and the stubborn earl forge a true bond before the next disaster strikes? - Five Excerpts to Make You Buy. - See My Latest Contest
Photo Credits: The one of the largest collection of Regency images online.
NYPL Digital Gallery
Jane Austen's World
Kyoto Costume Institute
Fashion: A History from the 18th to the 20th Century
SusanNaives.com, Nancy Regency Researcher, Costumes.org
The Costumer's Manifesto: 19th Century Costumes from the Victoria and Albert Museum
Vanessa Riley's Photography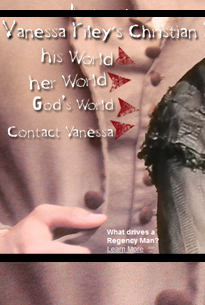 description: Nineteenth Century (1800's) England, the Regency Era is the perfect setting for sweeping passion that combines the ravages of war, the throes of love, the appetites of nobility and turmoil in the church. Regency England is a rich landscape, possessing all the ingredients to nurture enduring stories of the transforming nature of God's love in imperfect vessels. Vanessa has been collecting Regency History Information for a decade and she's made it available to you. May you be as enlightened and as entertained as I.